---
---
Knife sharpening can be so challenging. It already starts with a seemingly simple question: What is the correct sharpening tool and how do I use it correctly? Since many sharpeners only provide short-term sharpening and sometimes even damage the blade. experts mainly use whetstones and leather strops to keep their knives sharp for a long time.
But whetstones have their disadvantages: You need at least 2-3 pieces of different grit sizes to get a high sharpness. This can be very expensive with quality stones. In addition, using a whetstone requires a lot of practice, as the correct angle must be maintained throughout the entire sharpening process. If the angle is wrong or not constant, the knife will only be further blunted. This can be very laborious and time-consuming.
The fascinating thing about the construction of our Ruixin Pro Sharpener is that it retains all the advantages of the whetstone, but eliminates the disadvantages. It is the ultimate dream of anyone who likes to work with razor-sharp knives but does not have the time or desire to learn how to sharpen with the whetstone.
The secret lies in the ability to adjust any angle between 10 and 50 degrees for sharpening. The memory function ensures that the angle is fixed. This way everybody is able to ensure the most important requirement for a perfectly sharp knife - a constant angle.
Since the set contains different grit sizes of whetstones. worn-out blades can be re-sharpened and dull knives can achieve an incredible sharpness. Best of all: you don't have to buy all these expensive whetstones and learn how to use them.
The Ruixin Pro Knife Sharpener is a great accessory for any kitchen, hunting, fishing, or outdoor equipment.
Its unique design makes it capable of sharpening many different types of blades. Included are kitchen knives, hunting knives, woodworking knives, pocket knives, planning tools, scissors, and more!
It's also easy to use. Clamp the sharpener to any table. Insert the desired whetstone. Fix knife. Set sharpening angle with your smartphone or protractor. Perform grinding movement. Flip. Perform grinding movement. Done. No more annoying angle changes!
The premium quality knife sharpener is made of aluminum alloy. This ensures a more durable and long-lasting use of our professional knife sharpener as well as a luxurious look.
The Ruixin Pro sharpener comes with 4 whetstones, but the universal innovative patented abrasive holding system can use all stones up to 6".
The whetstone uses water for sharpening, so you do not have to buy expensive sharpening oils. This is not only cheaper but above all, it does not cause any mess.
It is suitable for professionals, but also for beginners! With a little practice. your knives will soon be super sharp. whether you are a professional or not.
If you are a beginner. we recommend you start with your inexpensive knives first before sharpening your favorite chef's knife.
Working with sharpening instruments naturally requires safety. This is what we pursue with our innovative special safety design. Because the handle is located on the top of the knife, it is not possible to injure your hand when moving the stone to sharpen the blade.
In addition, the sharpener is straightforward to install in just a few minutes. You can even tighten the screws by hand, so a screwdriver is not needed. This ensures effortless angle adjustment.
Product Features:
Pro sharpness with almost no practice

Adjustable & fixable angle

Angle can be adjusted to 10-50 degrees

Multipurpose: kitchen knives, hunting knives, pocket knives, scissors, and more

Ergonomic: can be clamped to the table, easy blade flipping system, adjustable premium handle

4 high-quality whetstones included!

All metal sharpener

New Flip Feature. Flip over to sharpen other side while retaining the same exact angle and edge

Angle adjustment is secure

Made with Aluminum Alloy and Stainless Steel

Suitable for Various Abrasives of different sizes

Suitable for Abrasives with or without base/backplate

Silent and smooth guidance system

Suitable for cutting all types of knives

Adjustable Ergonomic handle

Includes 4 whetstones without base (120# 320# 600# 1500#)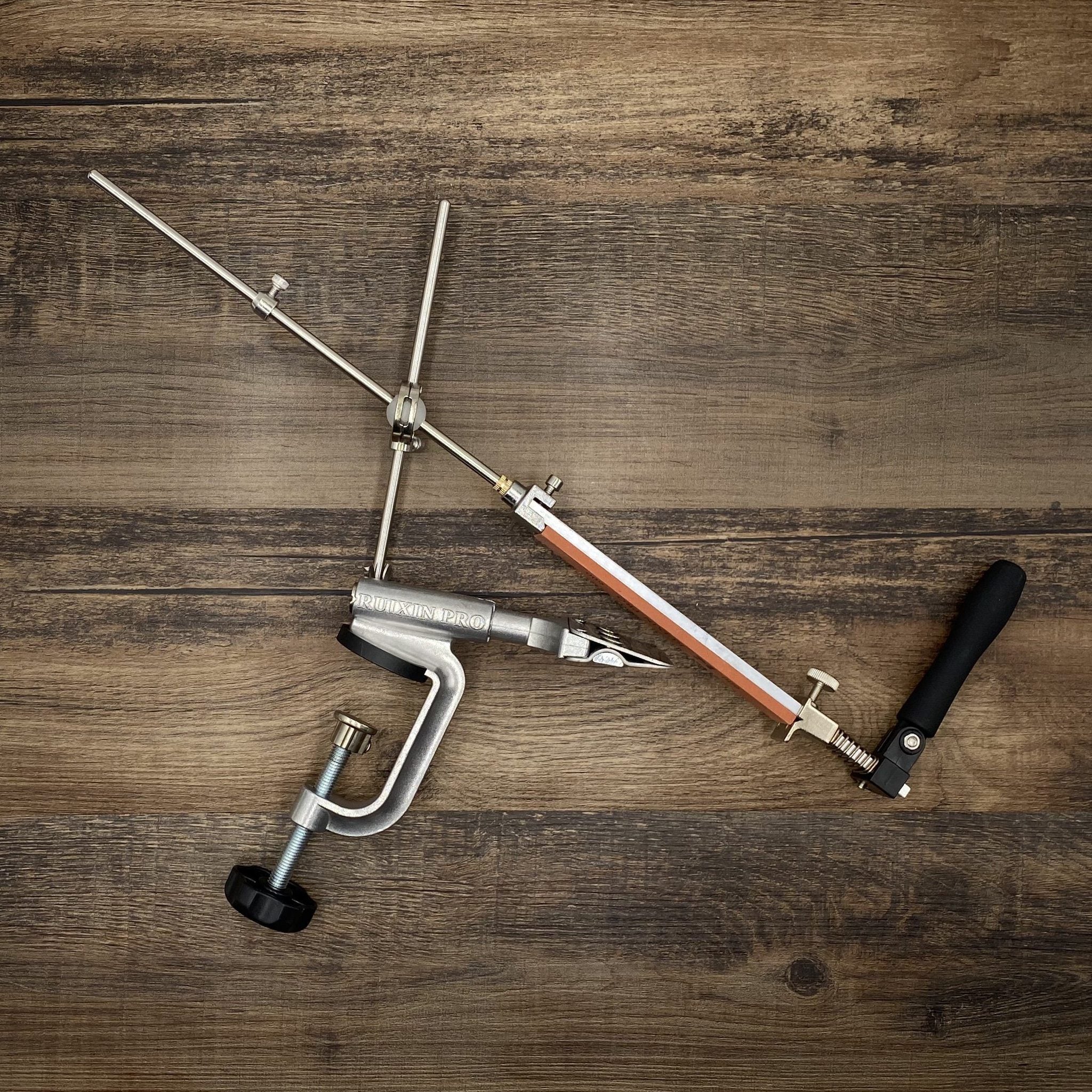 Clearance Sale:
Every item we sell is in its original packaging from the manufacturer, and it ensures the manufacturer's warranty is fully enforceable for every product.
We only have 50 units in stock and are offering them at a 50% OFF discount and FREE SHIPPING. Once this batch of inventory has been purchased, we will raise the rate to full retail; 
Click ADD TO CART to Order Yours Now before it's gone!
About Ruixin Pro Sharpener
Here at Ruixin, our top priority is operating with honesty and integrity – and it's been that way since we first started. We've spent decades developing quality products, & becoming a well-respected and trusted resource within the sharpening industry.
We do it because we're driven to be entrepreneurs. We also do it to improve the lives of others – our employees, customers, and community – and running an ethical business helps us achieve that goal.

For the past 30 years, we've developed a rich history, which includes revolutionizing the sharpening industry with this knife sharpening system. Early on, we set the standard for what "sharp" meant when it came to edges. Today, we continue to be the standard and take this responsibility seriously, for both our customers and employees.
How It Works

STEP 1-Place base on the countertop/table's edge. Tighten clamp securely!
STEP 2-Screw in the vertical rod with butterfly nut. Tighten the butterfly nut securely. On the vertical rod, place the limit or angle memory positioning stopper on, then place the pivot on.
STEP 3-Place the knife in the middle of the clamp. The knife should only be about 1/4 inch into the clamp. Make sure the knife's edge is parallel with the countertop/table. Tighten clamp securely. Do not over-tighten.
Screw on the stone holder rod (with the brass nut) on the stone holder. Secure brass nut securely.
Insert the stone holder rod into the pivot hole.
STEP 4-Pull the spring blade stop, and insert the whetstone. The tension of the stone hold can be adjusted by loosening the hex screw at the bottle of the handle and moving it forward or backward. Re-tighten hex screw. Important! Make sure the whetstone lays flat/flush against the stone holder prior to sharpening.
* Use the lowest grit if you're putting a new edge on the knife.
* Use 320 grit or higher if you're touching up an already sharpened edge. 
* If you're trying to match the knife's current bevel angle, you should use the marker method instructed in the manual.
STEP 5-Using an angle finder app/inclinometer, place the device on the base/datum. Set to Zero. While the stone holder and whetstone are resting on the knife, place the device on top of the stone holder (aluminum). To get your desired angle, adjust the pivot up or down.  After you have your desired angle, tighten the pivot thumbscrew securely. Move the limit/angle memory stopper up against the pivot. Tighten securely. Do not overtighten.
When grinding/lapping, you want to use front to back motion with left to right or right to left. Use as much of the stone as possible. The motion looks like a diagonal motion.  Always start from the edge of the knife that is closest to the handle then moving away from the handle. Use light downward pressure while lapping.
Package Includes:

Ruixin Pro Sharpener

4 high-quality whetstones (grit: t120. #320. #600. #1500)

Simple instruction manual

Travel bag
Details:
Material: Aluminium alloy, stainless steel
Colors: Black and silver
Shipping Information:

Shipping Policy:

Free Standard Ground Shipping with tracking number

Ships In:

2 working days

Due to high demand, we anticipate delivery of your awesome product within 15 working days global (quicker to US, Canada, UK, and Australia), faster shipping will be provided whenever possible! 

COVID-19 Notice: Our shipping times may be longer than indicated as changing COVID-19 restrictions affect delivery services. Know that our fulfillment teams continue to send product daily as we take extra precautions to ensure their safety. Thank you for your patience and understanding.

Return Policy:

100% Money Back Guarantee.30 Days Risk Free Returns.
Click ADD TO CART to Order Yours Now!
Satisfaction Guaranteed With Every Order. All prices are listed in USD.
OUR GUARANTEE
Yauoso.com is for the independent spirits who believe in the power of imagination.
Authenticity and quality is the heart of everything we do!
We aim to provide an extensive range of highly curated mix of unconventional lifestyle accessories, homeware, toys, gadgets and gifts 'with a twist', together with a professional dedicated service to our valued customers from all over the world, and we want to make sure we back that up with a risk-free ironclad 30 day guarantee.
If you don't have a positive experience for ANY reason, we will do WHATEVER it takes to make sure you are 100% satisfied with your purchase.
We have 24/7/365 Ticket and Email Support. Please contact us if you need assistance.
---